Business Intelligense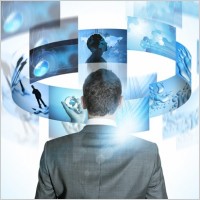 Microsoft provides a complete set of business intelligence components using Microsoft SQL Server, Sharepoint, and Office applications. SQL Server Integration Services (SSIS), SQL Server Analysis Services (SSAS), and SQL Server Reporting Services (SSRS) forms the heart of Microsoft stack of BI Solutions. These tools can be deployed either stand-alone or as part of a Sharepoint system, can be fully integrated with the Office 365 for cloud implementation. For enterprises that have embraced Microsoft technologies, the Microsoft BI stack is a logical extension to those systems. Our Consultants are experts in Data warehousing architecture using MS SQL Server and use the following services to create platform for Microsoft Business Intelligence:
MS SQL Server Integration Services (SSIS) is a platform for data integration and data migration workflow applications for performing extract, transact and load (ETL) tasks; extracting data from multiple sources such as XML, flat files, and relational data sources and database providers. Our Consultants not only improve data quality by using Data Quality Service, but also use predictive analysis with SQL Server Integration Services to flag anomalous data, classify business entities, predict missing values during ETL operations and address the following areas:
Integration of data from multiple, heterogeneous data sources
Data cleansing and profiling to improve data quality
Master data management
Metadata management to ensure data lineage and history
Management of information throughout its lifecycle to enhance governance and compliance
Microsoft SQL Server Analysis Services (SSAS), is an online analytical processing (OLAP), data mining component in Microsoft SQL Server. Our Consultants can build Organisational BI Semantic Model to provide one consolidated business view in the form of tabular and multidimensional data including business entities, business logic and key performance metrics that can be consumed by Business Users through Microsoft Office PerformancePoint, Excel, SharePoint Server and SQL Server Reporting Services.
enables a Business User create multiple data-mining models simultaneously with statistical scores of error and accuracy and confirm their stability with cross-validation. Our Speclialist Consultants can customise the following predictive models for your organisation that can be used for Strategic Decisions.
that enables Strategic Managers discover which items tend to be frequently bought together to create recommendations on-the-fly and to determine how product placement can directly contribute to your bottom line.
that enables Strategic Managers Anticipate customers who may be considering canceling their service and identify benefits that will keep them from leaving.
Define market segments and seek profitable customers by automatically grouping similar customers together.
that enables Strategic Managers forecast sales and inventory amounts and learn how they are interrelated to foresee bottlenecks and improve performance.
Profitability Data Exploration:
Analyze profitability across customers or compare customers who prefer different brands of the same product to discover new opportunities.
Identify previously unknown relationships between various elements of your business to make a better informed decisions.